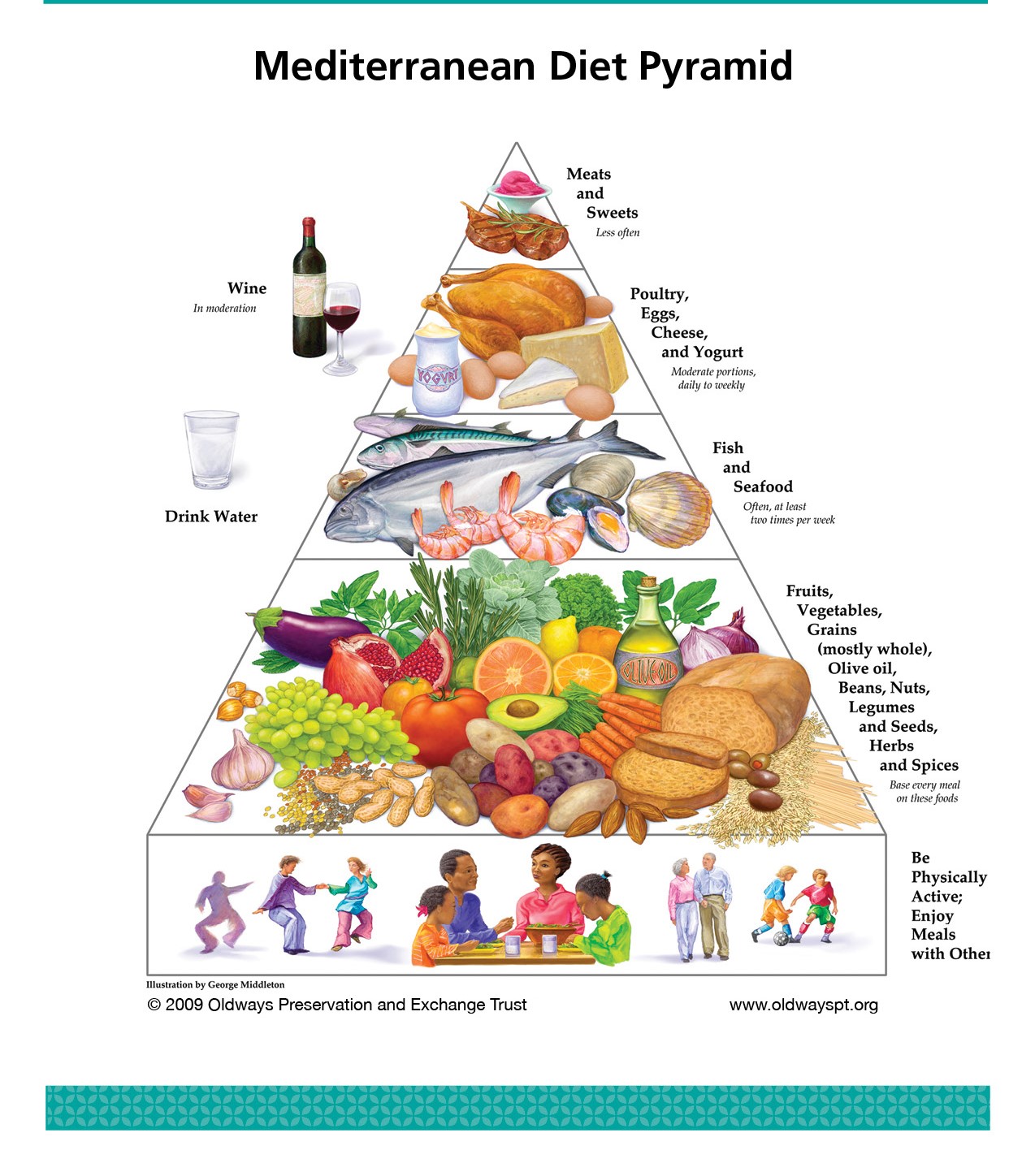 The Mediterranean Nutritional Plan
Good for Glucose control, Brain and Heart Health
The Mediterranean nutritional plan can be described as a dietary pattern characterized by a high consumption of plant-based foods, with Olive oil as the main fat source, the plan includes a low to moderate consumption of fish, low fat dairy products, and poultry, low consumption of red and processed meats, and low to moderate consumption of wine with meals. 
The American Diabetes Association and the American Heart Association recommends the Mediterranean diet for improving blood glucose control and reducing heart issues. The eating plan bring about these effects because of the high quality of clean, unprocessed food intake. Every nutritional plan should be individualized, taking into consideration the patient's height, weight, and resting metabolic rate, this will help to ensure you are getting your recommended daily allowance of calories. 
Other benefits of the Mediterranean eating plan include protection against dementia, in 32 research studies conducted between the year 1806 and 2015, from 25 groups of people, the majority of the studies showed that the Mediterranean diet was associated with improved memory recall/ cognition, and a decreased risk of dementia. The studies also identified that a Mediterranean eating plan has anti-inflammatory properties as well as a reduction in all causes of death including cancer. 
Another reasons that the Mediterranean eating plan is so effective at disease prevention and health restoration, is because the eating plan does not eliminate sugar, sweetened drinks, processed meats, refined grains, refined oils, and any other highly processed foods. 
Reference 
Golden, A., (2020). Treating Obesity in Primary Care. Pg. (116 – 117) Springer Publishing, Switzerland, AG. 
Mediterranean Diet, Cognitive Function, and Dementia: A Systematic Review of the Evidence - PubMed (nih.gov)
Mediterranean diet for type 2 diabetes: cardiometabolic benefits - PubMed (nih.gov)
Share this post: